東京旅のお土産、銀座山野楽器にて購入したCD.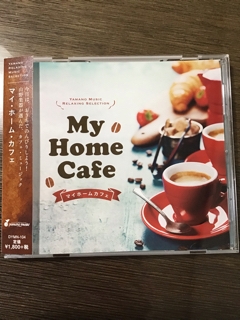 確かに家カフェの雰囲気になる♪
家で、カフェ勉、それがいい。コーヒーと音楽、それで良い。
Wow! the first week of the New Year is almost done! To be honest, I was really tired from having a good balance between daily life and ukulele life past in a few years. Especially, I practiced my ukulele hard last year. I was practicing it almost everyday when I was in Akita. Then, I performed many times at cafe, restaurant, beautiful garden, elderly facilities and so on. Of course, I appreciate and thank people for coming and I'm grateful to have the opportunity like that.
The beginning of the last year, I found this phrase " The fact you aren't where you want to be should be enough motivation." At that time, I really understood the reason why I couldn't play well, I felt I need more practice my ukulele. Thanks to practice, the last performance of the last year at Christmas time, I felt kind of satisfied with own performance. One of my goal achieved, I felt so. I learned a lot through this experiences. I think that to play the ukulele and to learn English are the same. To achieve my English goals, I have to deal with the pain and find a joy in the process, too. It's natural and necessary part of the learning process. In order to learn English / ukulele we must endure tiredness from study/ practicing and frustration from the difficulty to express ourselves the way we want to. After the last performance last year, I was so relieved. Finally I enjoyed it.
What is my New Year's resolution??
I'd like to have more relax time for myself this year. And, I'd like to keep to bring my ukulele skills to the next level. And also, I'd like to keep practicing my English for 2020.
"Rome was not built in a day!"
Learning English and practicing the ukulele can be a long journey!!
☆まだ下書き。ナエコ先生から添削してもらおっと笑